What is a Booking Engine in Hospitality?
An online booking engine is a reservation processing system used by hotels, hostels, B&Bs, vacation rentals, and other lodging businesses to capture bookings via their website, social media, or other marketing channels.
The main benefit for hotels using a booking engine is capturing new reservations without commissions from 3rd party distribution channels, including OTAs, GDSs, travel agents, or online marketplaces. Guests can book online at any time, from anywhere, and their credit cards can be charged immediately if a payment gateway is integrated.
Why do you need a hotel booking engine?
With the technological advancement, the hotel booking engine has gained immense importance, as not only it helps you to reach a wider audience, but also lets you provide the best possible booking experience to your guests.
Think about it yourself. Why do you need to opt for a hotel booking engine? You may be already getting bookings from third-party online distribution channels, or walk-ins or from some other sources. But then, ever wondered how much it's worth? Maintaining rate parity, real-time inventory, handling overbookings and under-bookings, what not! So maybe, this is where you are losing your profits and adding a burden of managing your hotel operations.
Nearly two-thirds of guests prefer to book direct with hotels.
A great booking experience is the beginning of the guest's lasting relationship with your brand. Along with the hospitality industry, the online booking engines have also evolved over the time and have made booking process simpler and faster. Simply put, a hotel booking engine will let you take bookings from your guests directly from your hotel website. Such organized approach helps you focus on guest experience, thus increasing your repeat guests.
4 Ways hoteliers use a Booking Engine to grow
1. Generate direct sales: Selling rooms directly and eliminating commissions from distribution channels significantly increases hotel profit margins and lowers guest acquisition costs. A booking engine helps increase direct sales by streamlining the process and by turning a hotel's website into a self-service online shop that's available 24/7.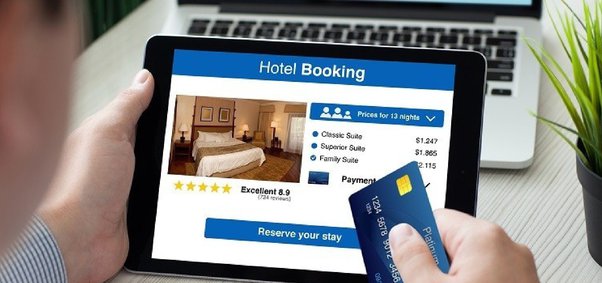 2. Personalization: Your website helps you deliver a highly personalized service to guests. Knowing your hotel's target market, you can tailor to it by adjusting room types, pairing additional services, or creating packages. You can make sure that your messaging caters to your ideal guest type, inspires them, and answers frequently asked questions.
3. Your Bookings, Your Terms: Your website is your shop where visitors can get inspired, browse, and ultimately confirm their booking without interruption from a 3rd party intermediary or intervention from your front desk or sales team. A direct reservation means that it is your property that "owns the reservation," the data, and the guest relationship. Your terms and conditions apply with regards to cancellations, payments, and other house rules. You'll be able to interact with guests right away and directly, without an intermediary.
4. Build Guest Loyalty: A hotel booking engine is a must-have for a guest loyalty strategy. Whether you're running a marketing campaign to engage returning guests or capture new ones via referrals, the most efficient and profitable way to process these reservations, while guaranteeing a smooth guest experience, is via your own direct bookings system.
Conclusion
To stand out of the competition, you need to opt for the right and durable technology. There are many options available for you but the key to the right selection is understanding your own needs clearly. The purpose of any good online booking engine is to allow your guests to book with you easily.
Numerah provides a 360-degree solution to manage any hotel; from rooms, housekeeping, restaurants, human resources, and all areas of hospitality management. Try it out for free!