What is a QR code menu?
A QR code menu provides a contactless ordering and payment solution for guests as well as staff. Hotels and restaurants can open with fewer resources, earn additional revenue, and assuage guests who are wary of high-touch surfaces.
Digital menus for hotels as well as restaurants should give guests immediate access via a QR code to put the ordering experience completely in their hands. Diners do not want to go through the process of downloading an app simply for the convenience of table ordering. Same for hotel guests – they may only be around for a few days, so they just want quick access to a food and beverage menu and to view additional services offered by the hotel to see if anything strikes their fancy. A QR menu enables all of this.
Here are some benefits of using a QR code menu in the Hospitality Industry
Maintain and update menus in real-time without having to print them
QR codes are a convenient way to manage a restaurant's menu. Restaurants can update their digital menu without having to print new menu cards, enabling them to save money and reduce wastage. Even from a customer's point of view, these menus are very easy to access. Guests simply have to scan the code to view the menu and order. Restaurants can easily create an online menu and generate a unique QR code which enables them to manage their digital menu both for online and dine-in orders.
Reduces Order Errors
Since the digital menu features images, guests can clearly see what they will receive before deciding what to order, and of course, you can add descriptions of the dishes for more details. Using a contactless menu for ordering also reduces errors due to miscommunications such as hearing the customer incorrectly or making a mistake while entering the order into the POS software. The entire ordering process can be streamlined, with the risk of these errors reduced to virtually zero.
Digital Menus Are Cheaper to Maintain, Faster to Deploy
A digital, contactless menu is dynamic and easy to manage. You can quickly add specials, remove out-of-stock items, and add different languages to improve guest interaction. Physical menus add a cost to maintain and keep updated but can be made irrelevant by using a QR menu. The guest simply scans the QR code menu and is shown item images, daily specials, and nothing that is currently out of stock.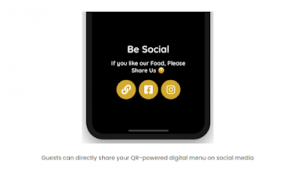 Serves as a marketing tool
QR code generators are quite customizable, allowing you to design your code to show your brand logo. It's one technique to raise brand awareness. Also, a QR code may be used to upsell items to your consumers. For example, a diner may order an appetizer and a main dish, but as the menu is digital, you may simply upsell other food products, such as desserts, by placing a banner on the code's landing page to tempt your customers to order. You will be able to increase your sales and earnings as a result of this.
Conclusion
There is no doubt that restaurants can benefit from QR codes in multiple ways. They give your clients a simple and quick method to place orders while also saving you money on printing. Furthermore, QR codes enhance cleanliness and sanitation by eliminating physical contact between guests and your employees when moving the menu from one pair of hands to another.
With Numerah QR code feature you can quickly generate a QR code for your restaurant's digital menu. QR codes are here to stay, ensure your restaurant is making the best use of this technology to provide guests with the experience they desire.